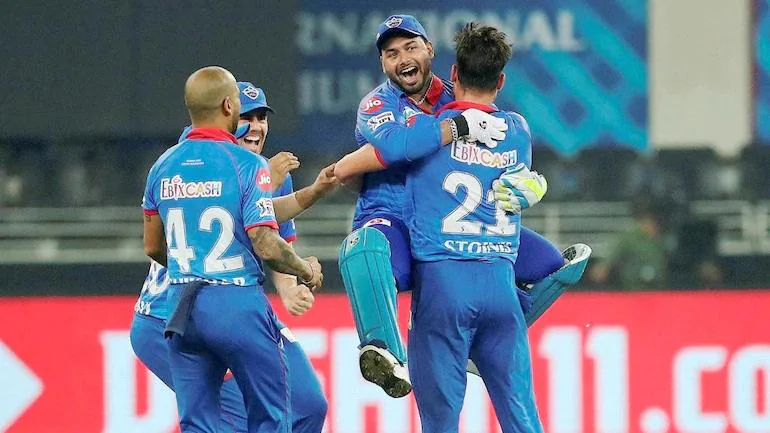 Explained: How DC Can Qualify For IPL 2021 Playoffs. The Delhi Capitals have booked their place in the IPL 2021 playoffs despite their loss to the Kolkata Knight Riders in the previous game. The DC side has been on a row of wins since the UAE phase started and their streak finally came to an end yesterday. They have been one of the most dominant sides in this IPL season led well by youngster Rishabh Pant.
Delhi is currently on 16 points in 11 games and their net run rate is pretty good as well to make it to the playoffs. They will be eyeing a spot in the top two to get an additional chance of making the finals. Currently, they look like making the top two very comfortably and do not have many problems intact. Here is how DC can still qualify for the IPL 2021 playoffs.
Explained: How DC Can Qualify For IPL 2021 Playoffs
DC's run rate will be enough at the moment for them to make the playoffs with 16 points but if they manage to lose all their remaining games, then KKR might move to the second place given that Eoin Morgan's side wins all their respective games. That could become very complicated for the DC side and they will prefer to keep winning which will certainly put them in the first two slots.
Delhi has some interesting games coming up in the next few days and they will be up against the MI, CSK, and RCB who all have a strong team. DC's current net run rate is 0.562 and only KKR are closer to achieving above Delhi's run rate in the next few games. The Rishabh Pant-led side has had some injury concerns and they would have to address them before the next game.
Delhi's next assignment will be against the defending champions Mumbai Indians on the 2nd of October and it will be an afternoon game at the Sharjah stadium.
Also Read – Explained: How RCB Can Qualify For IPL 2021 Playoffs
The post Explained: How DC Can Qualify For IPL 2021 Playoffs appeared first on CricketAddictor.