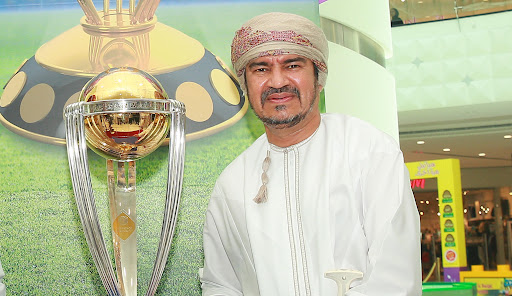 Cricket Oman chairman Pankaj Khimji wants International Cricket Council (ICC) to persuade full members of the governing body to tour countries of associate members to boos their economic and competitive structure.
Oman will be hosting six qualifier matches of Group B, where their own national team will be playing with the likes of Bangladesh, Scotland and Papua New Guinea.
We are totally elated and overwhelmed to host the T20 World Cup: Pankaj Khimji
Khimji said that it was a great opportunity for his nation to even host six matches of a prestigious tournament of ICC and only sees enhancement of the game in Oman from here on.
"You have hit the nail. I am so much for this that a certain amount of ICC-sponsored full country tournaments should be encouraged to take place in associate countries. What happens is that it not only gives a fillip to the local structure but it also helps in making sure that we are getting in tune. Local governments will also start supporting the sport. I think it is important that ICC should encourage full members to play games in associate countries," Khimji told news agency ANI. 
"We are totally elated and overwhelmed, I cannot express what it means for Oman to host such a tournament. First of all, even to be considered was a big high for us. Think about it, we are an associate country. Only four-five associate teams have done T20 World Cup two times in a row and we are one of them. Hosting the World Cup is an all-time high, an associate nation playing and hosting is totally what dreams are made of. We are living a dream as they say," he added.
BCCI is a dinosaur in size: Pankaj Khimji
The T20 World Cup was initially supposed to take place in India, but because of the COVID-19 situation in the country, the Board of Control for Cricket in India (BCCI) had to move the tournament to UAE and Oman in the October-November window this year.
Khimji expressed his gratitude towards the Indian board, calling it a super-efficient machine and also mentioned about his coordination with BCCI president Sourav Ganguly and secretary Jay Shah.
"You do not realise what the BCCI does. It is a dinosaur, not a dinosaur from an age point of view, but a dinosaur in size. It is a machine that is super-efficient. Not many people realise that doing 13-14 years of IPL is not easy. Your IPL tournaments every year is bigger than any tournament anywhere in the world. I am thankful to the ICC, Sourav Ganguly, and Jay Shah for trusting us," said Khimji.
"BCCI has been super-efficient. BCCI has made sure that we have four people here at our beck and call at all times, moderating us and helping us in every aspect of hosting the tournament. Whether I need Sourav Ganguly or Jay Shah's help, they have been fantastic. Every one of them has been outstanding. We have had no problems whatsoever," he added.
The second phase of IPL 2021 is being held in the United Arab Emirates after COVID-19 halted the tournament in India. This is the second year in a row, where UAE will be staging the IPL final after the entire season of IPL 2020 was hosted by the Gulf nation.
When Khimji was asked about hosting IPL someday, the Cricket Oman chairman said that he would accept the offer without even blinking an eyelid
 "Who would even want to think twice before answering this question. If BCCI were to consider Oman or even think of considering Oman as an IPL host, I would be elated. I would not even blink an eyelid if they ask me whether we would host the IPL. Between BCCI and Oman Cricket, the relationship is of mutual respect and trust. We still do not have a contract in place, that's how good the relations are," Khimji mentioned. 
Oman will play their first match against Papua New Guinea on October 17 at the Al Amerat Cricket Ground (Ministry Turf 1).
Also Read: Had Cyclone Shaheen Hit This Area, I Would Have Said 'Goodbye' To The World Cup: Oman Cricket Chairman Pankaj Khimji
The post ICC Should Encourage Full Members To Play In Associate Countries: Cricket Oman Chairman Pankaj Khimji appeared first on CricketAddictor.