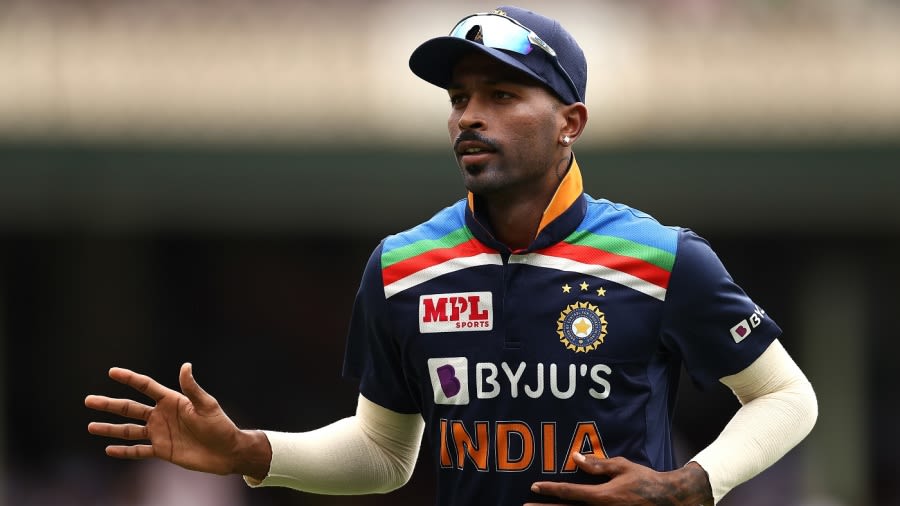 Former Indian cricketer Aakash Chopra said that Indian all-rounder Hardik Pandya will bowl at least two overs in the T20 World Cup.
Initially, when BCCI announced a 15-member preliminary squad, Pandya was considered the fourth pace bowler to support Jasprit Bumrah, Mohammed Shami and Bhuvneshwar Kumar.
Hardik Pandya looks uncertain to bowl for India
But there is uncertainty looming over the 28-year-old player's fitness and ability to bow in the T20 World Cup as he did not bowl a single over in the league stage of IPL 2021. Although chief national selector Chetan Sharma had mentioned that Pandya will bowl his full quota of overs in the showpiece event.
If Hardik Pandya is bowling, we are all happy: Aakash Chopra
Chopra reckoned that the Indian all-rounder will definitely bowl two overs and if he doesn't bowl, than the team's batting order completely gets changed.
"Hardik Pandya will definitely bowl two overs. He can bowl more than that as well, but two for sure, and it will soothe your and my heart if Hardik bowls because if he doesn't bowl, the story will look very different," Chopra said on his YouTube channel.
"If Hardik Pandya is bowling, we are all happy. You will have to change your batting order entirely if Hardik Pandya is not bowling. How will you do that, I am unable to understand. 
"Hardik Pandya at No.6 is only possible if you get him to bowl and he scores runs because he has not scored runs. If he is there at No.6 and Jaddu at No.7, you will have six bowling options and two rocket batsmen at No.6 and No.7," he added.
BCCI had recently replaced Shardul Thakur with spin bowler Axar Patel in India's main squad for T20 World Cup to add an additional pacer as a backup option for Pandya.
Pandya did not have a great season for Mumbai Indians, as he scored just 127 runs from 12 games in IPL 2021.
India will be playing warm-up games against England (October 18) and Australia (October 20) before they take on Pakistan in their first match of the T20 World Cup on October 24.
Also Read: Hardik Pandya Reveals Ranchi Airport Staff Spoilt His Surprise Visit To MS Dhoni On His 39th Birthday
The post ICC T20 World Cup 2021: Hardik Pandya Will Definitely Bowl Two Overs, Asserts Aakash Chopra appeared first on CricketAddictor.