Fans of Twitter couldn't hold themselves but jokingly accuse the Mumbai Indians of fixing their game against the Sunrisers Hyderabad, played out in Abu Dhabi on Friday.
This was because Mumbai Indians got off to a thunderous start from Ishan Kishan while the SRH bowlers bowled bad balls and the fielders misfielded on regular occasions.
Mumbai Indians need to win by 171 runs or more to go past KKR's net run rate of +0.587 and hence their batters came out all guns blazing.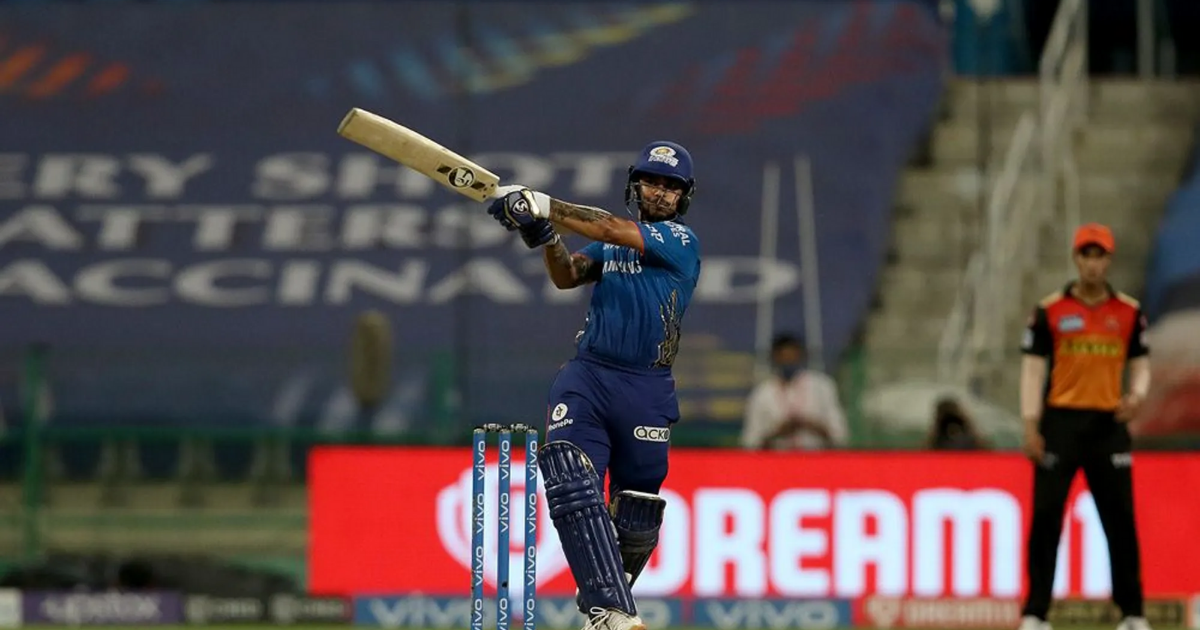 After winning the toss and electing to bat first, Mumbai Indians got a blazing start from Ishan Kishan. The left-hander hit Mohammad Nabi for a first-ball six before carting Siddarth Kaul for four boundaries in a row.
In the third, Rohit hit his first four before Kishan struck two more. In the fourth, bowled by Holder, Sharma took one four and Kishan brought up MI's fifty in just 3.4 overs with a maximum. Two more fours off Holder and Kishan brought up his own fifty off 16 balls!
The left-hander then went after Umran Malik, cracking another couple of boundaries. Rashid Khan, however, applied brakes on the scoring rate with the wicket of Rohit Sharma, who departed for 18. Mumbai reached 83/1 at the end of the powerplay with 63 coming off the bat of Kishan, who continued his assault smoking a six and a four to Malik.
He then went after SRH's main guy, Rashid Khan, slogging him over mid-wicket bringing up MI's hundred in the eighth over. Hardik, after hitting a six off Rashid, got out to Jason Holder. At the time of writing, MI are 124/2 at the 9-over mark.
With this incredible start from MI, netizens were quick to allege match-fixing, pointing out to Mukesh Ambani, the owner of Mumbai Indians and the richest person in India.
IPL 2021: Fans On Twitter Accuse Mumbai Indians Of Fixing The Match Against SRH
Why Kane Williamson and Bhuvneshwar kumar not playing today??
Maybe they were not ready to do fixing
This is too much.
Why are they misfielding and dropping catches

Ishan kishan#MIvSRH pic.twitter.com/7dh8tpaV6p

— Facts Wing (@ein_scofield) October 8, 2021
I think match fixing #MIvsSRH

— Deepak (@Deepak31995158) October 8, 2021
Hahahahahhaha fixing is trending not even surprised. Reason why I stopped watching ipl.

— Nikhil (@JoKeR_mufc) October 8, 2021
Pure fixing ..kaul ga super fielding

— star Salmon Raju (@GangulyWorld) October 8, 2021
I never believed in fixing until today.

LOOK AT THAT FIELDING???

— ɑeɡoη (@Messsiesque) October 8, 2021
Fixing match okati ,
Normal match okati #MIvsSRH #RCBvsDC https://t.co/eNHzvERYTD

— Shivamani (@WarangalKing) October 8, 2021
What a batting
Fixing at its best #MIvsSRH #RohithSharma Ambani pic.twitter.com/v2UZONTXfT

— HARISH SAAHO ᴿᵃᵈʰᵉˢʰʸᵃᵐ (@HARISHSAAHO11) October 8, 2021
" Fixing " Trending pic.twitter.com/uQwtfURbCA

— MI Winning Hearts (@Random_twitss) October 8, 2021
The way Sunrises Hyderabad are misfielding . This match is undoubtedly Fixed. #fixing @IPL

— Creame (@Creame94391766) October 8, 2021
I always used to fight with people who said IPL is fixed. Unfortunately after watching #SRHvMI I have to agree. Really poor fielding, such a weak team put out by #SRH and this feels like a movie script. Miraculously toss was in #MI favour too absolute joke.

— Viraj Bhatia (@virajb37) October 8, 2021
100% convinced IPL is scripted if MI qualifies today.

— Sahil (@TheAceGuy_) October 8, 2021
Holder just shows that the match is ___________ #fixing #SRHvMI

— Harsh (@hstopper12) October 8, 2021
If mi wins and qualifi for play offs today surely ipl is fixing that's a tweet .

— AK 17 (@Akash45310746) October 8, 2021
Also Read: T20 World Cup 2021: PCB Makes Three Changes To Pakistan's Squad
The post IPL 2021: Fans On Twitter Accuse Mumbai Indians Of Fixing The Match Against SRH appeared first on CricketAddictor.