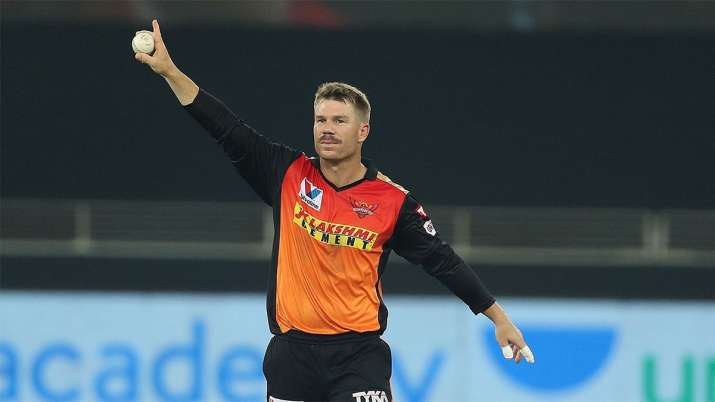 Star Australian opener David Warner has said that he would love to represent the Indian Premier League (IPL) franchise Sunrisers Hyderabad (SRH) once again in Indian Premier League (IPL) 2022.
Meanwhile, Warner was bought by Sunrisers Hyderabad in 2014, and he was the leading run-scorer in that season of IPL. He was handed over the captaincy in 2015, and under him, Sunrisers Hyderabad won the IPL title in 2016.
David Warner has been the most successful batsman for SRH in the history of the tournament, but after a mediocre run in the 14th edition of IPL, he was dropped from captaincy, which led him to lose a spot in playing XI. Although dropping Warner didn't help the team succeed as SRH ended the season at the bottom of the table.
After SRH's final group stage game, Warner posted some pictures on his official Instagram handle, thanking his fans and Franchise.
"My Instagram post was a special one because you don't know what's happening next year. Any time I post something on my social media, it's either my family or people that mean the most to me and SunRisers have given me that opportunity to lead,"

"The fans have been great, we won an IPL trophy while I was there, a great bunch of guys that I have played with and we don't know what's going to happen next year. There are two new teams, there is going to be a big auction and a lot of that is not up to us," Speaking to Sports Today about that Instagram post, former Sunrisers Hyderabad skipper said.
The Southpaw opined that he was not getting retained by the franchise for next year's tournament, so he felt it was the right time to thank you. Warner said
"Sometimes, you get that feeling that you are not going to be retained with little signs that you can see around the group. From my perspective, I can see the writing was on the wall and it was an appropriate time to say thank you.

"When you get on board with a new franchise, you don't want to be posting too much about the competition so I felt it was the right time to say good bye," he added.
The 34-year-old further added that Hyderabad was like his second home and everybody used to give him and his family huge respect. David Warner stated:
"Hyderabad's my second home, they have treated my family with great respect. Every time I have visited there, people want to give us hugs, speak to the kids and that is the most important thing to me in life. I am grateful for those memories and look forward to what's going to happen in the future."
I Didn't Realise That I Almost Played 100 Games For SRH – David Warner
The former SRH Captain mentioned that he didn't realise he had played almost 100 matches for the Orange army. He asserted:
"You don't really know your stats until people put it out there. I didn't realise that I almost played 100 games for SRH, I had no clue how good my stats were, without being arrogant. But at the end of the day, it's my job.

"I enjoyed every moment that I spent in that orange jersey and went out there and played to the best of my ability. That is all I did whether I was opening or whether I played down the order because our team was struggling in that area."

"These are things that are special to me – making a difference in terms of energy at the crease. Sometimes when you are at the top of the order you don't really get to play with the younger players (who come later) and I really enjoyed being able to do that (when I batted lower down the order)," he maintained.
Meanwhile, David Warner signed off by expressing his desire to be a Sunrisers Hyderabad (SRH) player once again. Warner said:
"I would love to be at SunRisers next year, but time will tell. I'd love to be part of the IPL in 2022, started my career with Delhi and then played with SunRisers. There are plenty of runs left in these legs so, I am looking forward to whatever opportunity presents itself," Warner said.
Also Read: We Would Have An Edge Against Delhi Capitals, Asserts Shubman Gill
The post IPL 2021: I Would Love To Be At Sunrisers Hyderabad Next Year – Ex-SRH Captain David Warner appeared first on CricketAddictor.