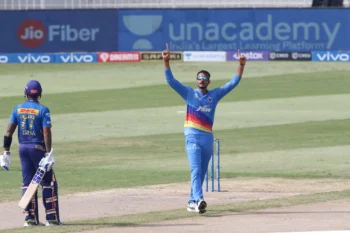 Axar Patel the left-arm spinner of team Delhi Capitals (DC) in the Indian Premier League (IPL) has revealed that the Head Coach of Delhi Capitals franchise Ricky Ponting once told him that he is a vital member of the team.
Axar Patel has been one of the most consistent performers for Delhi Capitals in the Indian Premier League. In the 14th edition of the Indian Premier League (IPL) he played 10 games for Delhi and managed to scalp 15 wickets at a very impressive average and economy.
In an exclusive interview with TOI Axar Patel was asked about the influence of Delhi Capitals (DC) head coach Ricky Ponting on his success to which Axar replied:
"Last year, he took me aside and told me I am one of the main players in the Capitals team."
The 27-year-old further added:
" Now that I have done well, he keeps reminding me what he said and that I should stick to what I have been doing."
Meanwhile, Axar Patel told that the best thing about Ricky Ponting is that he treats every player equally whether it is an uncapped player or an international player. He said:
"And the best thing about Ricky is that it doesn't matter to him if you are an international player. That's why we trust him so much."
The World Cup Is Definitely In The Back Of Our Minds – Axar Patel
Notably, Axar Patel has been named in India's T20 World Cup 2021 main squad. Speaking about the mega event Axar said that it is in the back of their minds but they haven't spoken a lot about it. He stated:
"The World Cup is definitely in the back of our minds but we haven't spoken much about it. The IPL playoffs is the best preparation because, in IPL, most of your rivals in the World Cup will be there."
Further Axar told that he has the same mindset as his DC skipper Rishabh Pant and they don't think too far. He said:
"Rishabh and I have the same mindset. We don't think too far and worry about outside noise. We know we will be putting pressure on ourselves if we obsess about planning for the World Cup."
Also Read: 14 Matches Won't Take Away The Glory Mumbai Indians Achieved Over The Last 2-3 Seasons – Rohit Sharma
The post IPL 2021: Ricky Pointing Told Me I Am One Of The Main Players In Delhi Capitals – Axar Patel appeared first on CricketAddictor.