Former Kolkata Knight Riders (KKR) skipper Gautam Gambhir said it is unfair to compare MS Dhoni's form with Eoin Morgan in IPL 2021.
Both Dhoni and Morgan haven't performed with the bat to stay ahead with the expectations they boast through their potential.
MS Dhoni has performed better than Eoin Morgan even with the bat: Gautam Gambhir
CSK captain Dhoni has scored 114 runs from 11 innings at an average of 16.28 while his counterpart Morgan has made 129 from 16 games at an average of 11.72.
Gambhir noted that Dhoni does not play international cricket anymore but Morgan does play.
Gambhir said comparing the two players' forms is like drawing comparisons between apples and oranges.
"Comparing their forms is very wrong in itself because MS Dhoni has retired from international cricket and the second player is the captain of his national team. You should not compare apples with oranges. MS Dhoni hasn't played international cricket for so long and it's acceptable if he's not in form or is contributing less. But on the other hand, Morgan is playing international cricket. Still, if you look at their performances, MS Dhoni has performed better than Morgan even with the bat," Gambhir told ESPNCricinfo.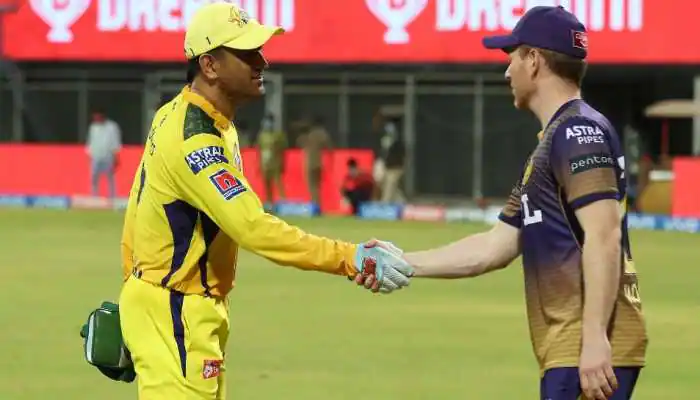 "Moreover, MS Dhoni also keeps wickets and captains so there are three departments. Morgan has only two things – captaincy and batting, where one has been totally bad. So, it's not fair to compare MS and Morgan's form," he added.
KKR will perhaps become equally successful to CSK if they win this final: Gautam Gambhir
CSK and KKR will meet in the final match of IPL 2021 on Friday in Dubai. Gambhir said if KKR wins than they will equal the number of IPL titles with CSK and thus should have equal recognisation in the tournament.
"We always talk about Mumbai Indians and Chennai Super Kings and their match is called El Clásico, why? Just because CSK has won the IPL thrice? KKR has also won it twice. If KKR wins this final, it will perhaps become equally successful to CSK. Then you'll have to keep KKR on the same pedestal as CSK. When we say Mumbai Indians and CSK are the most successful sides, it's only because CSK has won one more title than KKR. I hope KKR wins the trophy, both become equal at three trophies and KKR gets equal recognition to CSK," Gambhir said.
KKR won both of their titles in 2012 and 2014 under the captaincy of Gautam Gambhir.
Also Read: IPL 2021: If MS Dhoni Will Not Play, Then I Don't Think I Will Play – Suresh Raina
The post IPL 2021: Unfair To Compare Forms Of MS Dhoni And Eoin Morgan, Says Gautam Gambhir appeared first on CricketAddictor.