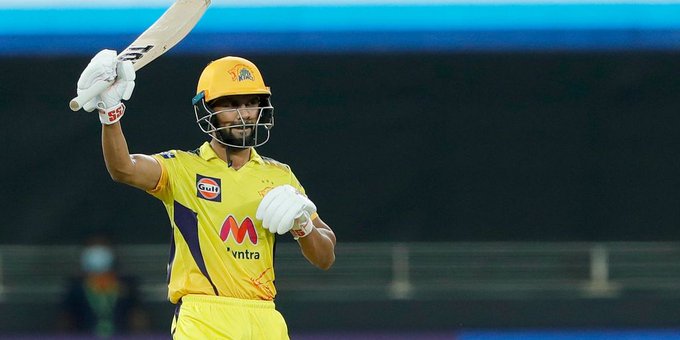 Chennai Super Kings opener Ruturaj Gaikwad who had a fantastic IPL season has opined his views on the sweep shot he played against one of the best bowlers in the Indian circuit. Gaikwad finished as the top run-getter in IPL 2021 with 635 runs in 16 games and he continued his excellent run of form from he where was left in the previous season.
He was one of the vital reasons behind CSK's successful title-winning campaign this season and provided excellent starts at the top alongside experienced Faf Du Plessis. His technique has looked so good and has relied on the classical shots to make runs. It will not be a surprise if he makes it to the Indian side in the top order soon.
Ruturaj Gaikwad Explains The Sweep Shot He Played Against Bumrah
Jasprit Bumrah is one of the best fast bowlers going around in the world at the moment and it is very difficult to play sweep shot against his pace and action. Gaikwad had swept six off Bumrah in the game against Mumbai Indians and it was an incredible shot to play against him. Gaikwad had noted that the fieldset and the bowler looking to get it full are the two main things while playing sweep.
"I have played that shot before. Whenever the square-leg is up and when the bowler is looking for a yorker, it is possible to play that shot. It is impossible to do all the time, but even if the bowler slightly errs in the length, it will go for a six." Ruturaj Gaikwad in an interview with New Indian express
Ruturaj Gaikwad Reckons He Has Been Playing The Shot For The Last Two Years
Ruturaj Gaikwad admitted that the sweep shot has been very productive for him in the last two years and added that he had already predicted the yorker coming from the bowler which allowed him to get down quickly.
"It has given me rewards in the past. I've been playing that shot the last two years and at that moment, I thought he was going to bowl a yorker" He added
Ruturaj Gaikwad was the youngest player in IPL history to bag the orange cap.
Also Read – Watch: Ruturaj Gaikwad's Receives Grand Welcome At Home After Winning IPL 2021 With CSK
The post Ruturaj Gaikwad Opines On Sweeping Jasprit Bumrah In IPL 2021, Feels The Shot Has Been Productive For Him appeared first on CricketAddictor.